Evergreen Engineering & Resources
18-G, Jalan Semenyih Sentral 2,
Semenyih Sentral,
43500 Semenyih,
Selangor, Malaysia.

+603-87244168

+603-87244158

Hettich Universal 320R
Laboratory Equipment --- Centrifuge ---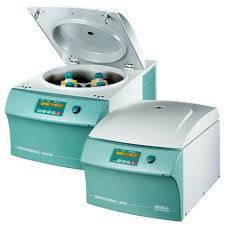 Download
Universal_320_and_320R.pdf
(7.37 MB)
Its comprehensive range of accessories and outstanding performance make the UNIVERSAL 320 R the ideal centrifuge for almost every application. The centrifuge separates samples reliably at the desired temperature. It can be set to any temperature in the range -20 °C to +40 °C. In addition, it has a fast cool function.
Carriers and adapters for standard tubes up to 100 ml are available for use at low speeds. In addition, this centrifuge can be used for microtitre plates, tubes with a screw cap, blood collection tubes or cytology accessories.
A maximum RCF of 21,382 can be achieved with microlitre tubes. Vessels with higher volumes (up to 85 ml) can also be centrifuged thanks to the high performance of the centrifuge.
It is possible to choose between eleven swing-out rotors, seven fixed-angle rotors and one haematocrit rotor. The fixed-angle and swing-out rotors with accessories are suitable for virtually all applications in everyday use in industrial, research and clinical laboratories.
Safety and comfort in the workplace using carriers with a single-hand clamp lock
The clamp lock of the 1560 carrier can be operated without difficulty with just one hand. The carrier can be comfortably carried by the clamp whether the lid is in place or not since, in contrast to the products from other manufacturers, the clamp is mounted on the carrier and not on the lid. If the lid is in place, the carrier can not only be carried with ease, it is also safe to transport.
With the clamp in the "open" position the lid can be easily fitted and removed.
With the clamp in the central position the carrier is sealed to prevent aerosol formation and can be safely carried to the centrifuge, workbench or another working space.
With the clamp in the "close" position the carrier can be centrifuged without aerosol formation. The absence of aerosols has been verified by the TÜV in accordance with DIN EN 61010, Part 2-020.
Product details
Max. capacity in a swing-out rotor: 4 x 200 ml

in an angle rotor: 6 x 85 ml

in a hematocrit rotor: 24 standard capillaries

Max. speed (RPM): 15,000

Max. RCF: 21,382

Dimensions (H x W x D): 346 x 407 x 698 mm

Weight: approx. 53 kg

Refrigeration: Infinitely variable from -20 °C to +40 °C

Frequently used rotors: Swing-out rotor for 4 x 100 ml (90°), max. RCF 4,193 – Cat. No. 1494

Angle rotor for 30 x 1.5 / 2 ml, max. RCF 21,255 – Cat. No. 1689-A

Angle rotor for 6 x 85 ml, max. RCF 9,509 – Cat. No. 1620A

Cyto rotor for 6 slide preparations, max. RCF 2,039 – Cat. No. 1626
Operator comfort
Safety
Design
Accessories