Evergreen Engineering & Resources
18-G, Jalan Semenyih Sentral 2,
Semenyih Sentral,
43500 Semenyih,
Selangor, Malaysia.

+603-87244168

+603-87244158

Hettich HAEMATOKRIT 200
Laboratory Equipment --- Centrifuge ---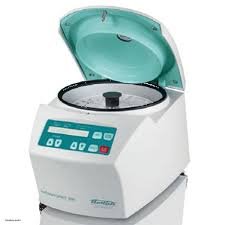 Download
PS-HAEMATOKRIT-200.pdf
(104.2 KB)
HAEMATOKRIT DETERMINATION IN ONLY 7 MINUTES
The HAEMATOKRIT 200 is a fast and efficient centrifuge for determining hematocrit count. It runs at 13,000 RPM and accommodates up to 24 capillary tubes to a maximum RCF of 16,060.
Results can be clearly viewed with the integrated Haematocrit reader in the rotor lid.
MAX. CAPACITY:
24 Capillaries
MAX. RCF:
16,060
MAX. RPM:
13,000 min-1
WEIGHT:
approx. 10 kg
REFRIGERATION:
Air cooling
DIMENSIONS (W x D x H):
261 x 353 x 228 mm

BUILT-IN DISK ROTOR, 24-PLACES
Max. RCF: 16,060
Max. RPM: 13,000 min-1