Evergreen Engineering & Resources
18-G, Jalan Semenyih Sentral 2,
Semenyih Sentral,
43500 Semenyih,
Selangor, Malaysia.

+603-87244168

+603-87244158

Daihan 1,000íŠ Digital Muffle Furnace
Laboratory Equipment --- Furnace ---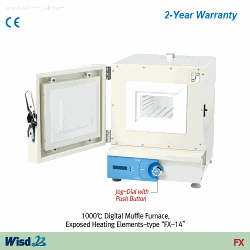 DAIHAN-brand® 1,000íŠ Digital Muffle Furnaces, "FX", Exposed Heating Elements-type, with Certi. & Traceability with Digital PID Control, Short Heat-up Time, Ceramic Fiber, 4-Side Heating, with Ceramic Fiber Plate, 3~63 Lit.