Evergreen Engineering & Resources
18-G, Jalan Semenyih Sentral 2,
Semenyih Sentral,
43500 Semenyih,
Selangor, Malaysia.

+603-87244168

+603-87244158

Memmert Climate chamber ICH
Laboratory Equipment --- Climate Chamber Stability ---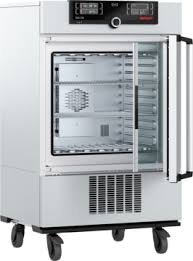 Download
BR_Memmert_Product-range_EN.pdf
(1.46 MB)
BR_Memmert_Climate-chambers_EN.pdf
(3.98 MB)
Climate chamber ICH
Unparalleled homogeneity of temperature and humidity! For stability testing according to ICH - WHO - EMA - ASEAN - GMP - GLP – GCCP.
Climate chamber ICH for stability testing according to ICH and GMP
Its excellent temperature and humidity homogeneity positions the climate chamber ICH in the international top league of stability test chambers. Thermal transfer to the interior – whether heat or cold – is guaranteed through a large-area air jacket on four sides. Thanks to its hermetically sealed interior, the climate chamber ICH does not consume any water once the setpoints have been reached, provided that the door is not opened. Two high-grade platinum temperature sensors with mutual monitoring guarantee interruption-free long-term operation even if one sensor should fail.
3 models: climate chamber ICH 110/260/750 temperature/humidity, ICH 110L/260L/750L with light, ICH 110C/260C/750C with CO

2

control
temperature range from - 10 °C to + 60 °C (models ICH), 0 °C to + 60 °C (models ICH L), + 10 °C to + 50 °C (models ICH C)
3 model sizes (108 to 749 litres volume)
1 model variant - TwinDISPLAY
digitally controlled active humidification and dehumidification from 10 to 80 % rh
double doors as standard: Prevention of contamination and drops or rises in temperature with an optimal view of the chamber load through wide-area interior glass doors