Evergreen Engineering & Resources
18-G, Jalan Semenyih Sentral 2,
Semenyih Sentral,
43500 Semenyih,
Selangor, Malaysia.

+603-87244168

+603-87244158

DECON 90 CLEANING SOLUTION
Chemicals and Reagents --- Decon 90 ---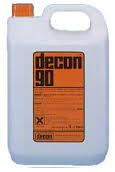 DECON 90 CLEANING SOLUTION (5 LITRE)
Biodegradable, phosphate and enzyme free, water rinsable surface active cleaning agent and radioactive decontaminant. A 2% to 5% solution is adequate for the majority of cleaning applications. Increasing solution strength, heating the solution or use in an ultrasonic cleaning bath will greatly reduce the cleaning time. Not suitable for use on non-ferrous metals, notably aluminium and zinc, or on polycarbonate. Concentrate pH 13.0, 10% solution pH 11.9, 2% solution pH 10.7.Ideal for laboratory, medical and specialised industrial cleaning applications.
Specification
| | |
| --- | --- |
| Container Type | Polyethylene containers |
| Color | Milky white |
| Boiling Point | 100.5°C |
| pH Range | pH 13.0, 10% solution pH 11.9, 2% solution pH 10.7 |
| Composition | An emulsion of anionic and non-ionic surface active agents, stabilizing agents, non-phosphate detergent builders, alkalis and sequestering agents, in an aqueous base |