Evergreen Engineering & Resources
18-G, Jalan Semenyih Sentral 2,
Semenyih Sentral,
43500 Semenyih,
Selangor, Malaysia.

+603-87244168

+603-87244158

Hettich EBA 270
Laboratory Equipment --- Centrifuge ---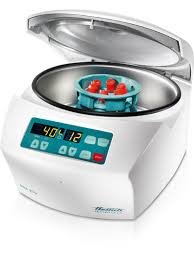 Download
EBA270_EN.pdf
(1.28 MB)
SUPERIOR SEPARATION RESULTS IN MEDICAL APPLICATIONS
The EBA 270 is a small centrifuge with a swing-out rotor that has been developed specifically for use in clinical settings. It can centrifuge the blood tubes and urine tubes up 15 ml in volume at a maximum speed of 4,000 RPM / 2,254 RCF. Its 90° rotor is ideally suited for spinning blood tubes containing a separating gel.
Product Specifications:
MAX. CAPACITY:
6 x 15 ml
MAX. RCF:
2,254
MAX. RPM:
4,000 min-1
WEIGHT:
approx. 14 kg
REFRIGERATION:
Air cooling
DIMENSIONS (W x D x H):
326 x 389 x 239 mm


BUILT-IN SWING-OUT ROTOR, 6- PLACES
Angle: 90°
Max RCF: 2,254
Max RPM: 4,000