Evergreen Engineering & Resources
18-G, Jalan Semenyih Sentral 2,
Semenyih Sentral,
43500 Semenyih,
Selangor, Malaysia.

+603-87244168

+603-87244158

Disk Micrometer Series 369
Laboratory Equipment --- Micrometers ---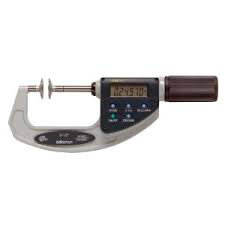 Features:
The disk micrometer is designed to easily measure root tangent length of spur gears and helical gears.
Non-rotating spindle eliminates torque on workpiece.
With standard bar except 0-15mm, 0 -.6", 0-25mm, 0-1", 0-300mm & 0-1.2" model
Speedy spindle feed of 10mm/rev. (Quickmike type).
Diameter of measuring disk: 20mm/.787"
With ratchet stop for constant force.With SPC output (Series 369)
Supplied in fitted plastic case.
Function:
Origin-set,Zero-setting, data hold, data output, inch/mm conversion (inch/mm models) Alarm: low voltage, Counting value composition error