Evergreen Engineering & Resources
18-G, Jalan Semenyih Sentral 2,
Semenyih Sentral,
43500 Semenyih,
Selangor, Malaysia.

+603-87244168

+603-87244158

Safety Shoe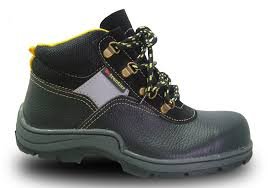 Footwear must be chosen based on the hazards that are present. Assess the workplace and work activities for:
Materials handled or used by the worker.

Risk of objects falling onto or striking the feet.

Any material or equipment that might roll over the feet.

Any sharp or pointed objects that might cut the top of the feet.

Objects that may penetrate the bottom or side of the foot.

Possible exposure to corrosive or irritating substances.

Possible explosive atmospheres including the risk of static electrical discharges .

Risk of damage to sensitive electronic components or equipment due to the discharge of static electricity.

Risk of coming into contact with energized conductors of low to moderate voltage (e.g., 220 volts or less).
Available size;
5-12