Evergreen Engineering & Resources
18-G, Jalan Semenyih Sentral 2,
Semenyih Sentral,
43500 Semenyih,
Selangor, Malaysia.

+603-87244168

+603-87244158

Alumina Crucible
Glassware and Plasticware --- Alumina Crucible ---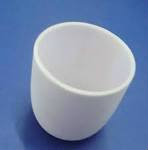 Alumina Crucible
Product Details
Brief Instruction:
Alumina crucible has a wide application due to its versatility and low material cost. It is much more economic compare with silica crucible. Alumina prossesses a high melting point, strong hardness and good chemical stability, making it a good material to withstand high temperature and chemical corrosion.
Model
Capacity
Size (Rim x Bottom x Height)

Alumina Crucible

25 ml
39 mm x 23 mm x 39 mm
30 ml

45 mm x 25 mm x 39 mm

50 ml
52

mm x 30 mm x 46 mm

100 ml

73 mm x 38 mm x 53 mm

Alumina Crucible, Lid

25 ml
47 mm x 9 mm (Rim x Height)
30 ml

53 mm x 9 mm (Rim x Height)

50 ml

63 mm x 10 mm (Rim x Height)

100 ml

83 mm x 13 mm (Rim x Height)