Evergreen Engineering & Resources
18-G, Jalan Semenyih Sentral 2,
Semenyih Sentral,
43500 Semenyih,
Selangor, Malaysia.

+603-87244168

+603-87244158

Glass Test Tube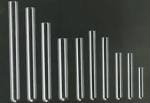 Glass Test Tube
Details
Brief Instruction:
Nice's glass test tube is a common laboratory glass tube (borosilicate glass) that usually with a rounded U-shape bottom. It is also known as culture tube. Test tube are widely used by chemists to hold, mix, or heat small quantities of solids or liquid chemicals, especially for quantitative experiments and assays.
Model
Size

Glass Test Tube, Rimless

10 / 75 mm
12 / 75 mm
12 / 100 mm
13 / 100 mm
15 / 100 mm
16 / 100 mm
16 / 125 mm
16 / 150 mm
18 / 150 mm
20 / 150 mm
25 / 150 mm

Glass Test Tube, Rim

12 / 100 mm
15 / 100 mm
16 / 125 mm
18 / 150 mm
20 / 150 mm
25 / 150 mm
25 / 300 mm