Evergreen Engineering & Resources
18-G, Jalan Semenyih Sentral 2,
Semenyih Sentral,
43500 Semenyih,
Selangor, Malaysia.

+603-87244168

+603-87244158

Glass Coplin Staining Jar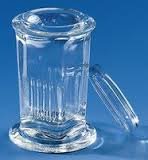 Glass Coplin Staining Jar
Details
Brief Instruction:
Glass coplin staining jar is a clear, vertical container with glass lid. It is suitable for staining in pathology, microscope, microbiology and hematalogy.
Coplin jar can be used for pre-staining with, alcohol buffer and can also serve as a preparation chamber for micro-thin-layer chromatography.
Model
1478
Details
Vertical
Hold up to 5 slides (back-to-back)