Evergreen Engineering & Resources
18-G, Jalan Semenyih Sentral 2,
Semenyih Sentral,
43500 Semenyih,
Selangor, Malaysia.

+603-87244168

+603-87244158

Disposable Digralasky Spreader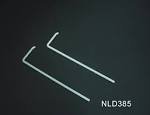 Disposable Digralasky Spreader
Brief Instruction:
Digralasky spreader also known as cell spreader. It can speed up bacterial culture work and prevent re-use contamination by using the disposable digralasky spreader. Our diagralasky spreader had been sterilized and not require autoclaving or flaming.
Model
Size

Disposable Digralasky spreader

L-shape
Sterile