Evergreen Engineering & Resources
18-G, Jalan Semenyih Sentral 2,
Semenyih Sentral,
43500 Semenyih,
Selangor, Malaysia.

+603-87244168

+603-87244158

Gruenwald Bayonet Forcep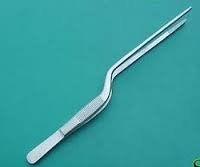 Gruenwald Bayonet Forcep
Brief Instruction:
Gruenwald Bayonet forceps is one of the surgical forceps. It can help user to grasp small objects when fingers are too large to reach the objects. This term forcep is used almost exclusively within the medical field and is specialty used for ear, nose and throat.
Model
Size

Gruenwald Bayonet Forceps, Stainless Steel

160 mm
200 mm