Evergreen Engineering & Resources
18-G, Jalan Semenyih Sentral 2,
Semenyih Sentral,
43500 Semenyih,
Selangor, Malaysia.

+603-87244168

+603-87244158

Laboratory Spatula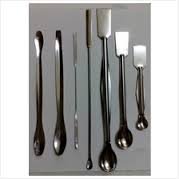 Laboratory Spatula
Brief Instruction:
Laboratory spatula and microspatula are small stainless steel utensils which and used for scraping, transferring or applying powders and pestle like chemicals or treatments. Laboratory spatula are widely use in pharmaceutical companies, medical or dental supply companies.
Model
Size

Micro-spatula, Set of 3

220 mm

Spatula, Spoon End

125 mm
150 mm
160 mm
180 mm
200 mm
210 mm