Evergreen Engineering & Resources
18-G, Jalan Semenyih Sentral 2,
Semenyih Sentral,
43500 Semenyih,
Selangor, Malaysia.

+603-87244168

+603-87244158

Disposable Latex Glove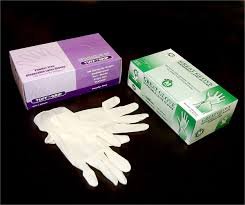 Disposable Latex Glove
Brief Instruction:
Nice's latex glove is made from natural rubber latex and is a processed plant product. It can protect wearer from mild acids, alcohols and most diluted solutions of chemicals. Latex glove are thin and tight fit which will be suitable used in medical and other sector. There are two main type of latex glove, which are powdered and powder free.
Caution: This product contains Natural Rubber Latex which may cause allergic reactions in some individuals.
Model
Size

Latex Glove, Powder Free

XS
S
M
L
XL

Latex Glove, Powdered

S
M
L