Evergreen Engineering & Resources
18-G, Jalan Semenyih Sentral 2,
Semenyih Sentral,
43500 Semenyih,
Selangor, Malaysia.

+603-87244168

+603-87244158

Thermometer, Alcohol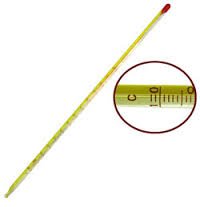 Thermometer, Alcohol
Brief Instruction:
A thermometer is a device for measuring temperature. It are widely used in industrial, studies, medical and scientific research. Compare with mercury thermometer, the contents of an alcohol thermometer are less toxic and will evaporate away fairy quickly.
Model
Range

Thermometer, Mercury

0 - 50°C X 1°C

0 - 100

°C X 1

°C

0 - 150

°C X 1

°C

-10 - 110

°C X 1

°C